Poppycock came from Wales, his nickname was 'The Cock with C-O-C-K", a Dutch television detective working in the red light district in Amsterdam. No connection to crown jewels etc, as some with a dirty mind may think. Poppycock was kind and loving, his favourite pastimes were eating, purring an lap-sitting.
At shows he was Best Blue and Best in Show several times and twice Best British Shorthair of the entire show – all because of his extraordinary coat. We stopped showing when he was Gr. Int. Ch.
Poppycock was at stud from 2010 to May 2016. In spring 2016 we lost our last old male neuter (Caterwaul's Touchstone). We have always had male neuters, we think a group of cats can't do without them. So after losing our old neuters Caterwaul's Dom Perignon and Cattractive King Lear in 2010, and Caterwaul's Touchstone in 2016, we decided to let Poppycock fill this gap. He was glad to get rid of his stud pants and was welcomed back to our bed again.
Unfortunately Poppycock got rheumatism. This made it difficult for him to squat in the litter tray which resulted in him getting constipated. He did take laxatives obediently but nevertheless the vet had to clean him out under sedation a couple of times. This was very painful. When he was almost eleven years we old, we decided it wasn't fair to put him through this once again and we gently let him go.
I miss him terribly, he was such a comfort to me when I was bedridden for a long time after an accident. Even though his joints were stiff and hurting, he always climbed onto the bed to keep me company and even during his last night he came upstairs to be with me.
"These miss you nights are the longest."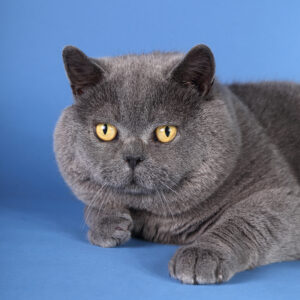 About me
Sire: Cattractive Utherpendragon
Dam: Willowood Hatti Jacques
Colour: Blue
Born : May 9th 2009 – 2020
Bloodtype A/B
Showresults
HCM/PKD testresults
DNA-testing showed that Poppycock
does not have the longhair gene.