was named after the anonymous Bristol-based graffiti artist Banksy. Unlike his namesake our Banksy has a very open character, he is easy-going and his sparkling dark orange (hazelnut) eyes can't hide the mischief he is planning. He is a cool cat. When we fetched him part of Bristol Airport was under construction and the noise was awful. Banksy wasn't impressed at all and boarded the plane as if he was used to daily shuttling between Bristol and Amsterdam.
At his first show (Neocat-Olst) he became best blue kitten. He got his championship quite easily, with two best blue male prizes and one Best in Show. In 2019 he became an International Champion. He got his CACIBs in three shows and was Best In Show in all three shows. At the show in Germany he was also Best of Best and even Best Over All! Banksy likes shows and doesn't mind a night in a hotel at all.
Right now (2023) he is a European Champion with another Best of Best in March 2023. We aren't sure yet whether we'll go on to World Champion. Some judges love to see really mature studs with a perfect eye colour, another judge thought seven years was too old… Well, we don't like to show every month and neither do we like cats of barely two years old which are already a European Champion. We think a good British Shorthair deserves time to fully develop.
He is seven years old now and was screened negative for HCM and PKD seven times by drs. Rob Gerritsen, Specialist VIM of the KNMvD (Royal Dutch Society of Veterinarians), De Kompaan, Ommen, NL. Member of the Collegium Cardiologicum www.collegium-cardiologicum.nl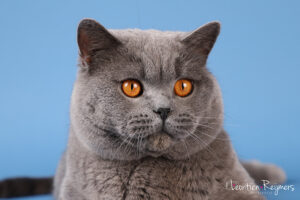 About me
Sire: Olympic Grand Champion Steelaway
Mr.Brightside(blue)
Dam: Skellum Stellar Dawn (blue)
Date of birth: 22-06-2016
Colour blue
Blood type B
Showresults
HCM/PKD testresults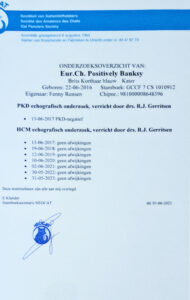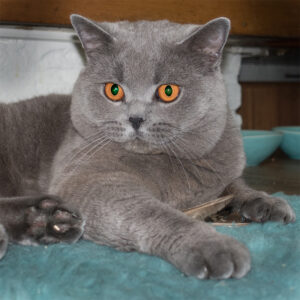 Banksy, juni 2018, foto M. Schrier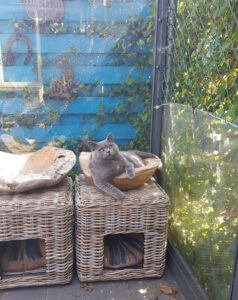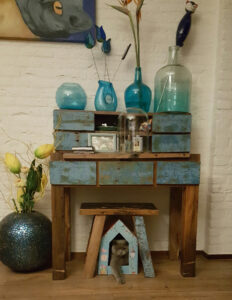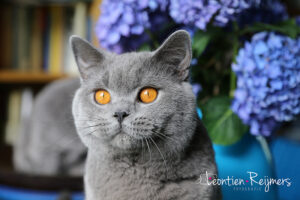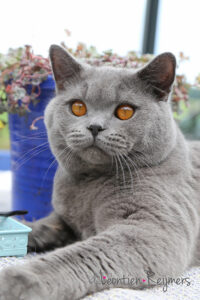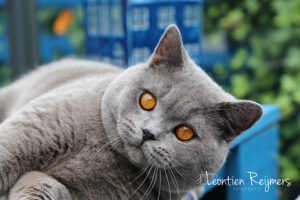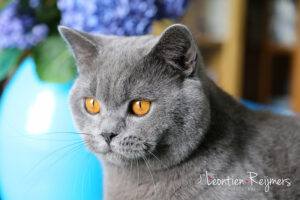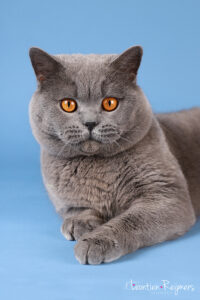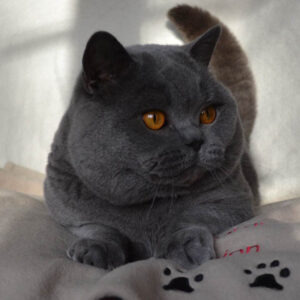 Banksy's vader Steelaway Mr.Brightside