Stanley is a lovely blue boy, compact, with an excellent eye colour.
He is a genuine shorthair so he won't sire longhairs.
He often sits outside and watches our pony and our adopted stray Moshe doing their things.
He also loves to play. In the evening I collect his toys in a big bowl only to find them scattered all over the floor in the morning.
Getting a thorough brushing is his favourite pastime – not that he needs it, his coat is gorgeous and doesn't need grooming.
When he has a female with him he is very tender, he likes to snuggle up to her and sleep in the same bed – that is if she allows him.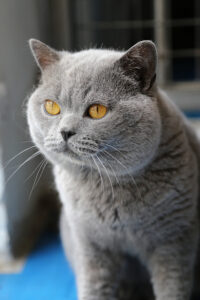 About Me
Sire: Skellum Elmo
Dam: Skellum Rosydaydream
Colour: Blue
Born : March 27th 2011
Bloodtype B
Non-longhair carrier
Show results
HCM/PKD testresults